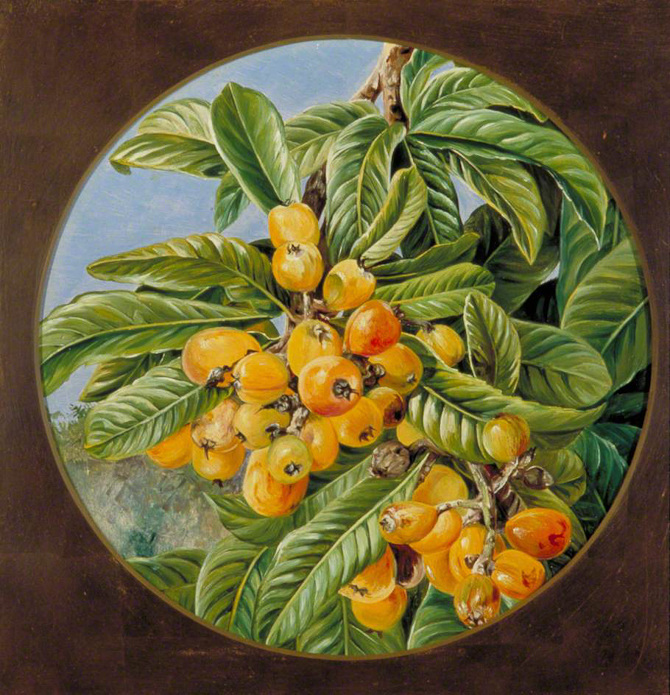 BRAZIL
Marianne North's trip to Brazil came right after her first visit to the United States and Jamaica in 1871. She left England on the 9th of August 1872 in the Neva Royal Mail Ship and reached the coast of Pernambuco two and a half weeks later. After a few days in Bahia the Neva continued its route and reached the "
beautiful Bay of Rio, which certainly is the most lovely sea-scape in the world: even Naples and Palermo must be content to hold a second place to it in point of natural beauty
."
Ms North found accommodation at the Hôtel des Étrangers at Botafogo (not far from where Charles Darwin had stayed 40 years before) and immediately began exploring Rio, paying almost daily visits to its already famous Botanical Gardens. Karl Glasl, the Gardens Austrian director, allowed Marianne to keep her easel and brushes at his house and she only returned "at sunset to dine and rest, far too tired to pay evening visits". She also made a couple of short trips to the island of Paquetá and to the Tijuca coast before accepting an invitation to visit Minas Gerais with Mister James Gordon, Superintendent of the Morro Velho gold mines, and his family.
"
I liked their looks and manner of asking me, and it seemed a grand opportunity of seeing something of the country, so I said I would come for a fortnight, at which they laughed, and with reason, for I stayed eight months!
"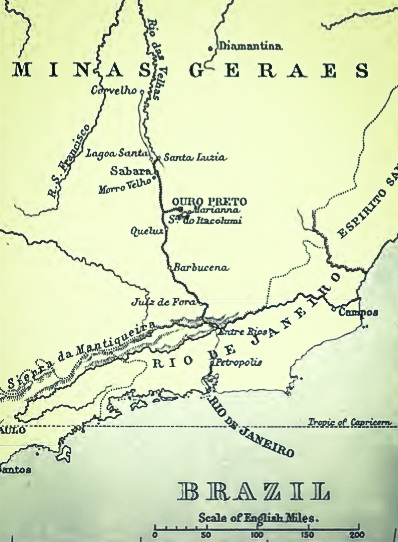 Route across Rio and Minas Gerais

The route first took her to Petropolis (here she became acquainted with the Emperor and his wife), where they stopped for some time before continuing to Juiz de Fora, Entre Rios, Barbacena and finally the Morro Velho mines. Marianne North spent more than half a year with the Gordons, painting the surrounding landscapes, numerous plants and birds. To this period of "living in an English collony" she dedicated many of the pages in her diary about Brazil. The combination of living in the comfort and company of her compatriots and having at her daily disposal the fascinating exotic landscapes of the Brazilian interior extended her stay way beyond what she originally planned.
From Morro Velho she also took various excursions to such places as the former Cata Branca gold mines, Ouro Preto, Mariana, Itacolomi and Lagoa Santa. In Lagoa Santa paid a visit to
Peter Lund
before continuing on to the Curvelo Caves where the famous paleontologist had made so many of his discoveries.
Marianne North was an intrepid and curious traveler, always willing to go places and discover. At the peak of the dry season, on July 2nd, she began her slow journey back South to the Bay of Rio, stopping at the Caraça Jesuit school, Teresopolis and Petropolis.
"
The distant Organ Mountains peeped at us over the ends of the green valleys, and I again thought nothing in the world could be lovelier than that marvelous road
."
She arrived in Southampton on the 14th of September 1874.